By Alice Whitfield, Houzz
If you're facing a rental agreement with strict rules to keep the walls white and bare, don't despair. You can still put your stamp on them without ever picking up a hammer or a paintbrush. Here are a few temporary (and budget-friendly) ways to add some flair to your space without ruffling your landlord's feathers.
1. Dot some decals around.
Decals are a delightful way to adorn your walls and can be as posh or playful as you like. Create orderly patterns with pineapples or apply metallic dots in swoops and bursts. There are scads of options for whatever strikes your fancy. The best part? You can peel them off when you move (or need to reposition one).
Tip:
If you're worried about putting decals on straight, choose dots or flowers with no distinguishable top or bottom.
Pineapple decals: Urban Walls; rattan chairs: Bloomingville; tabletop: Anthropologie
2. Prop up wall decor.
Skirt a no-nails rule by leaning artwork and mirrors against your walls. If the pieces are big enough, place them on the floor for an effortlessly chic look. If not, set them on a table, dresser, mantel or desk. Detachable adhesive hook-and-loop strips can keep your masterpieces in place, no hammer needed.
Tip:
A weathered door or shutter can be propped against a wall and used to hang artwork. Just don't forget to seal your find if the paint is peeling off.
Rug: Green Front Furniture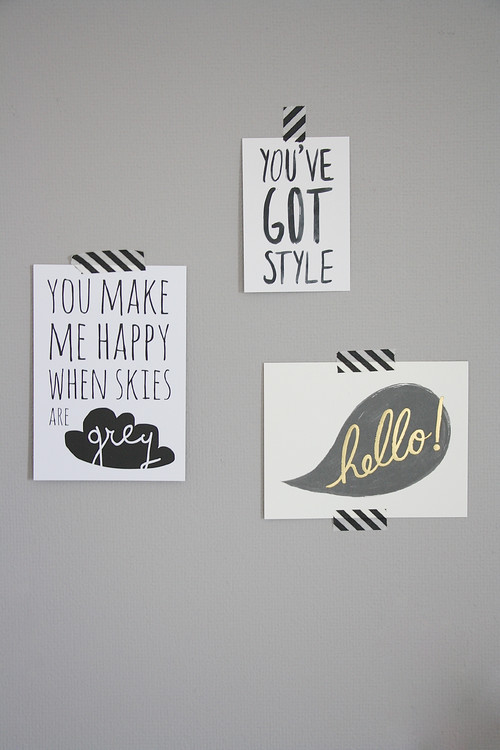 3. Discover the magic of washi tape.
Removable and reusable, washi tape makes for marvelous decor, and there are patterns and hues aplenty. Use it to hold up your favorite postcards, photographs and posters. Feeling crafty? You can also use washi tape to create faux picture frames and decals.
Tip:
Washi tape isn't reserved for walls. You can decorate everything from light switches to refrigerator doors with this crafting phenom.
You Make Me Happy postcard: Paqhuis
4. Try out temporary wallpaper.
Self-adhesive removable wallpaper is a boon for renters. Just peel and stick to add color and interest to your space. You can cover every vertical surface, apply the roll in stripes or create an accent wall. If you tire of the hue or are moving, it's easy to take off and toss.
Tip:
Some temporary wallpaper is reusable, so check the label if you're planning to switch it out.
Bed: Colette, Crate & Barrel; wallpaper: Devine Color Diamond in Horizon, Target
5. Rejoice in tension rods.
If the thought of nailed-in curtain rods gives your landlord a conniption, use tension rods instead. These fantastic inventions are much easier to install than your average curtain rod. They're also adjustable, making them painless to move and use elsewhere.
Tip:
Tension rods are handy all around the house. You can use them to hang potted plants, clothes, cleaning sprays and high heels — just to name a few items.
6. Use adhesive hooks with abandon.
Art is a lovely way to add punch to your rental, and DIY art can be very wallet-friendly. Hang some on your walls with removable adhesive hooks; they're a wonderful alternative to nails. Just be sure to choose ones that can hold your work. Some brands helpfully list weight capacity, so check the label.
Tip:
Many removable-hook makers sell replacement adhesive strips. Save your money and your walls.
7. Dress up your shelves.
If you can't wallpaper your walls, then wallpaper your bookshelves. You can inject pattern and color using traditional wallpaper without worrying about the removal. You can also use wrapping paper or scrapbook paper to get the same effect.
Tip:
Temporary wallpaper is a great option if your rental comes with built-in shelves.
Bookshelf and cube bins: Land of Nod; headboard fabric: pattern 21045-601, Duralee
8. Spice things up with a screen.
Place a screen behind your bed, desk or sofa for instant panache. While not as expansive as an accent wall, it can still add a pleasing focal point. Lean the screen against the wall or secure it with removable adhesive fasteners. Its convenient fold-up design also makes a screen easy to take to your next home.
Tip:
If you find a dilapidated screen for a nice price, you can always re-cover it with fabric or wallpaper.
Screen: Pier 1 Imports