By Laura Gaskill, Houzz
Fall and winter are natural times to gather with friends at home, warm up around a fire and simply enjoy time together. In Denmark, the word for just that sort of feeling is
hygge
. Roughly translated,
hygge
(pronounced "huu-ga," as in "huge") means enjoying a warm and cozy good time in a peaceful atmosphere, either with family and friends or on your own. Sounds wonderful, doesn't it? Here are 10 ideas for bringing more warmth and coziness into your own home and life.
1. Enjoy a cozy sitting room.
This is a place where people are the focal point. Think of comfy chairs, shelves packed with books and photo albums, nice lighting and perhaps some games or cards on hand. If you have a fireplace or wood stove, make use of it and gather round the fire on a crisp fall evening.
2. Light candles all around the house.
On the dining table at dinnertime, certainly, but also on the coffee table, nightstands and kitchen counter. And instead of waiting for a special occasion to light them, make a point of using and enjoying your candles daily, especially in the fall and winter. (Candlelit breakfast, anyone?) If you have safety concerns, votives and tea lights are less likely to topple than tapers, and battery-op versions are always an option too.
3. Seriously — you can almost never have too many candles.
This seems to be the unwritten rule across Scandinavia, where long winters make ample lighting a must. Of course, you don't need to live in the cold north to appreciate the cozy charm of candlelight. An abundance of flickering candles on tables and trays, all over the house, is the quickest way to create a magical mood, so don't be shy about adding a few more.
4. Share good food with friends.
It doesn't need to be fussy or fancy to feel special. Simply making a commitment to use the real dishes (even on takeout night), lighting candles and placing a vase of flowers or a cut branch on the table is enough to create a convivial mood. Hosting small, relaxed gatherings regularly can be a wonderful way to keep in touch with loved ones.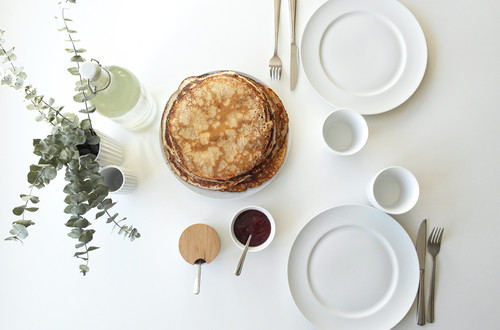 5. Linger around the table for coffee and dessert.
On most nights, a piece of fresh fruit and tea or a small square of chocolate is plenty — the idea is to provide an enticement to stay at the table a bit longer. Of course, there's also something about serving a special dessert, like crepes or a beautiful cake, that can make any evening feel celebratory. Once the meal is done, people tend to relax a bit more. Let yourself savor those few extra minutes at the table chatting instead of jumping up to wash dishes.
You can make the evening even more
hygge
by taking off your shoes and enjoying your coffee and dessert in the living room. Or if you are with family or close friends,
hygge
is also about making it even more relaxed by eating the whole dinner sitting on the couch.
6. Make comfort a priority.
Toss throws or faux furs over the seats of hard dining chairs to make them more comfortable and encourage lingering around the table after the meal. If you're relaxing outdoors, keeping a stack of blankets on hand for draping over laps or covering damp seats is a nice touch that will make people happy to stay out and enjoy the fresh air a bit longer.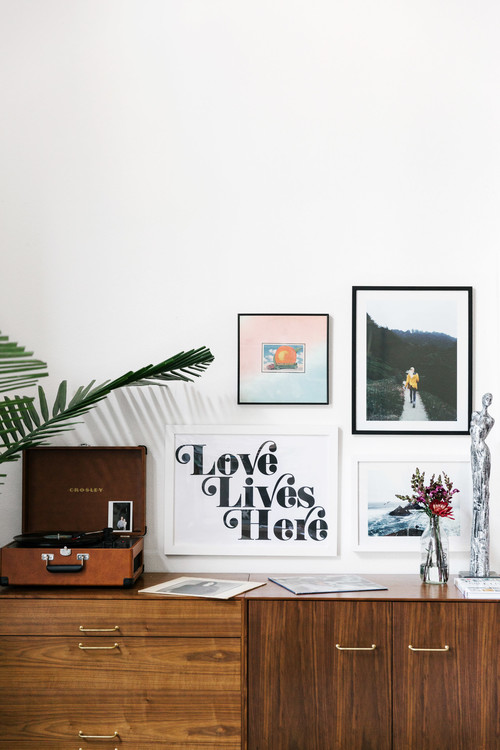 7. Create a pleasant atmosphere with music.
Music is a wonderful way to create ambiance, so consider what mood you hope to create before you decide what to put on. And don't be afraid to expand your musical tastes and try something new! Just keep the music soft enough that you don't need to raise your voice to be heard above it: If the point is gathering to chat and mingle with friends, make sure the music adds to the warm, social vibe without stealing the show.
8. Enjoy some solo cozy time too.
hygge
isn't just about being social, it's also about enjoying a peaceful moment by yourself, with nothing on your agenda. Read a good book or leaf through some old photo albums, draw a bath or just putter about the house, enjoying the light coming in through the windows. Allowing yourself some downtime when you can rest and restore yourself is important!
9. Celebrate with cozy traditions.
Especially in winter, when the weather can be dreary for weeks on end, anything that will boost moods is welcome. Try baking special breads or cakes, either for yourself or to share with friends; invite people over to decorate cookies; do a craft project; or share a bottle of wine and a few nibbles. Having a few hot drinks like cocoa and cider on hand to offer drop-in guests can make the winter seem a bit warmer.
hygge
also applies to the act of cooking and housework. It you are in the right relaxed mood, even cleaning can be
hygge
. In Denmark, busy people will often use the term as a verb, saying, "we need time to
hygge
."
10. Simply enjoy time together.
The beautiful thing about
hygge
is that it's about more than your surroundings — it's about cultivating a positive attitude and deciding to leave divisive topics at the door, if only for a few hours. It's also about enjoying the present just as it is, and allowing yourself to savor the company of loved ones without criticizing or arguing. Who wouldn't want that?