By Tom Flanagan, Houzz
Functionality, innovation and simplicity arguably are the cornerstones of Japanese design. In a country renowned for its interiors, careful management of these elements achieves designs that work in both function and form. More than that, design influences daily life in Japan, and creates customs for the home and how people live in it. How can we adopt the best elements of Japanese design without losing our own style? Here are eight simple rules that just might help.
1. Opt for bright, white and light rooms.
Minimalist decor, light-colored woods and white surfaces are popular in Japanese interiors. A combination of these elements contributes to the look of serenity Japanese prize in their homes. Blonde woods such as maple or hinoki, a type of cypress, help boost light in a room. Combine light wood with a clean white paint, clutter-free surfaces and, as in this kitchen, chairs you can see through, and you've got your own slice of tranquillity.
2. Celebrate empty space.
If you really want to bring Japanese design sensibility into your home, you'll have to learn to love empty spaces. Open areas give us room to breathe and let our minds wander instead of lingering on what's there.
The sparseness employed in traditional Japanese design is a reminder to appreciate unfilled space and strike a balance in the home. The next time you're looking to decorate a blank wall or put up shelves, look around, take in the context, breathe and consider what you can leave out rather than what you can put in.
3. Embrace craftsmanship.
Another reason emptiness is viewed as a positive is that it provides space to appreciate detail and craftsmanship. Japanese culture is still arguably heavily influenced by
shokunin katagi
("craftsman's spirit") with its focus on detail and aesthetic beauty. Even Japanese lunch boxes, known as bento boxes, are pleasing to the eye.
The term
craftsman
extends across all trades, from design professionals to cleaners, each one an expert taking pride in achieving a simple and attractive result.
While it could be hard to fill your home only with examples of great craftsmanship, working in select pieces can give your interiors a sense of individuality. Seek out local craftspeople to imbue your home with character and history. The Japanese believe the aging process adds to the beauty of wooden furniture, so be sure to cherish whatever you invest in.
]
4. Create indoor-outdoor flow.
A key principle of Japanese design is to create a flow between indoors and outdoors, so as to appreciate both. The Japanese have a finely tuned appreciation of the seasons, so being able to respond to their changes is a component of many homes.
Sliding doors are a common fixture, as they allow for a seamless transition between spaces.Shoji screens, such as the ones seen here, are wooden frames inset with a translucent material such as plastic or paper. These screens not only help maintain a fluid boundary between spaces, but they serve to bring in light and increase the sense of space while retaining privacy.
For a look reminiscent of shoji screens that lets in more light and views, consider steel doors and windows with smaller, rectangular panes of clear glass.
5. Create a nook.
Another way to build in personal space and bring nature into the home is with a window seat that offers a spot to reflect and embrace the quiet. Whether it's for work or pleasure, a corner nook can be a wonderful way to make use of an otherwise empty space.
If the budget allows, you can invest in a built-in seat like this one. Or you can simply set aside a small space with a large potted plant or simple bookshelf and add a floor lamp and chair. Boost the coziness with a small side table, a little rug and a blanket for the chair and you have a place just for you.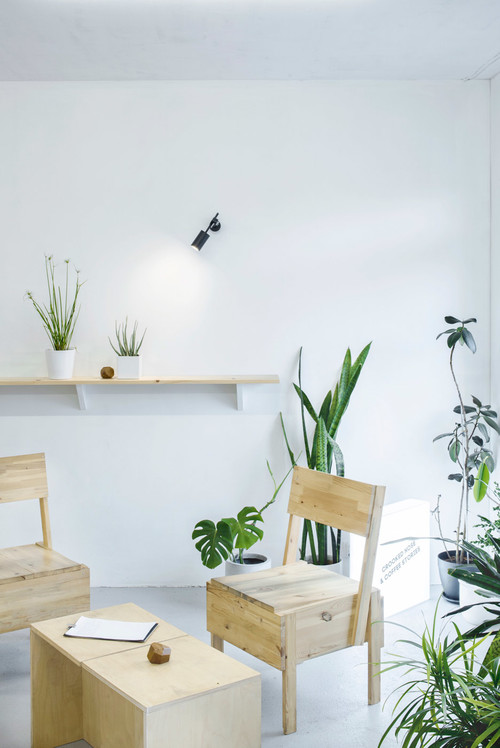 6. Decorate with plants.
Another way to incorporate nature into daily life is with indoor plants, whether hanging or in pots. If you have the space, create your own living wall. You'll be feeling more peaceful in no time.
7. Slip off your shoes.
Japan is famed for its strict and often complicated customs, but the ruling on shoes inside the home is straightforward enough. Most people in Japan have outdoor shoes and indoor shoes or slippers. Having indoor shoes is one way to keep your home looking pristine and dirt-free, important in Japanese homes where there are often roll-out futons and tatami mats. However, the consequence of this is needing a place to store all that footwear. This staircase, in which each step is fitted with a drawer, is a great solution.
8. Find a place for bamboo.
Bamboo is a material we often associate with pan-Asian style, and Japan is traditionally a big fan of it too.
Bamboo is great outdoors as a means of adding a natural feature and creating privacy. Invest in noninvasive bamboo plants for your garden or balcony and create a border around a seating area, as here.
Indoors, bamboo works as a decorative material. Incorporate bamboo blinds in the summer to keep things cool or employ sturdier stalks as hanging rails, either for clothes or in the kitchen, rather than the usual stainless steel. Bamboo room dividers can break up a bathroom space too, creating separation between toilet and sink and adding a touch of Japanese style.